MICRONEEDLING FOR ACNE SCARS | Acne Scar Treatment in Birmingham  
Acne Scar Medical Microneedling is a minimally invasive cosmetic procedure that's used to treat deep to wide acne scarring concerns by stimulating collagen production and growth factors. Also known as collagen induction therapy (CIT), this treatment creates micro-punctures in the skin using pulsating miniature, sterilized needles. Microneedling for acne scars triggers the natural healing response processes after the micro punctures have been created. This can help remodel the skin from the inside outward resulting in significantly reduced scarring and improved skin elasticity.
BENEFITS OF ACNE SCAR MEDICAL MICRONEEDLING?
Acne Scar Medical Microneedling has gained popularity at Schon aesthetic for its growing list of benefits. Microneedling will rejuvenate, level up and plump the skin reducing acne scars by elevating with minimal discomfort and very little downtime, and your treatment plan can be adjusted to fit your individual needs. Acne Scar Medical Microneedling can treat the following scar types: Boxcar, Ice-pick and rolling scars.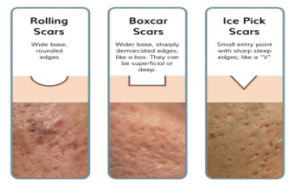 LASERS V ACNE SCAR MEDICAL MICRONEEDLING
Acne Scar Medical Microneedling is considerably safer and less expensive than laser therapy and does work better for the majority. Laser treatments involve the use of heat, which can affect your skin's pigmentation making Acne Scar Medical Microneedling a safer natural approach to targeting stubborn acne scar concerns. Laser therapy may not be the best option to treat deep or narrow acne scars due to the fact that most lasers do not reach the floor or walls of the scars thoroughly enough to encourage the individual scars to elevate towards the surface following manually targeted stimulation of the collagen production that Acne Scar Medical Microneedling offers. People with darker skin tones prefer microneedling to laser therapy because of safety and pigmentation concerns.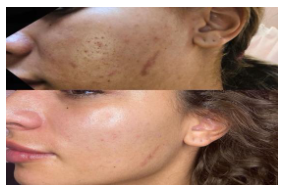 WHAT HAPPENS IN A ACNE SCAR MEDICAL MICRONEEDLING CONSULTATION?
You will receive a thorough consultation to discuss your skin concerns and suitability for treatment. You will undergo a medical check to ensure there are no contra indications or under laying health issues that may prevent you from having treatment.
Once all is well you may be treated on the same day or another appointment time will be booked for you and all following treatments will be block booked for you to keep in with the usual treatment plan (one treatment every month) to maximise your results.
WHAT HAPPENS DURING A ACNE SCAR MEDICAL MICRONEEDLING TREATMENT?
The skin is numbed with cream anaesthetic to ensure your are comfortable throughout the procedure. The skin is cleansed thoroughly then lubricated with specific serums to help the micro-needles glide over the skin. Micro punctures/ channels are created by the needles that reach down to the floor of the acne scars allowing the serums to penetrate inside them. Bleeding may occur and this is normal. You will then be placed under a LED light for 20mins to accelerate the benefits of the treatment session.
 HOW MANYACNE SCAR MEDICAL MICRONEEDLING TREATMENT'S DO I NEED?
In most cases, it is necessary to have multiple sessions before improvement can be seen with most acne patients reporting seeing a visual improvement from the second treatment. Package deals are available (see 'Acne Scar Medical Microneedling' in price list)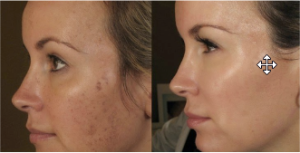 WHY IS ACNE SCAR MEDICAL MICRONEEDLING & LED LIGHT THERAPY COMBINED?
In most cases it is necessary for achieving maximum results to complete each treatment session with 20mins of LED light therapy to help accelerate the growth, healing and anti bacterial factors LED therapy offers. At Schon aesthetic we recommend LED therapy to complete your treatment sessions to help achieve optimum scar reduction results and faster healing.
 WHAT HAPPENS AFTER ACNE SCAR MEDICAL MICRONEEDLING TREATMENT?
Following each treatment session, you will be provided with aftercare advise information and a ointment to protect the skin to help speed up the healing process over the course of your 7 day healing period.
HOW LONG DOES HEALING TAKE? 
The healing period is usually 7 days post treatment. Although everyone's skin is unique and not everybody heals in the same pattern. You may experience some tingling, mild irritation, dryness, tighter feeling skin from day 1-3. Your skin may begin to peel from day 3-5 due to your own natural skin cell turn over response to the treatment. From day 5-7 you will have some dry flaking. It is important to keep the skin moist and hydrated. You must discontinue using your usual exfoliating, active ingredient products such as Retin-A and AHA, scrubbing devices, your usual facial products for the entirety of the 7 day healing period to prevent interference to the treatment. Apply a factor 50 sunscreen to protect your skin following the 7 days healing and continue this pattern of skin care until your treatment package plan is completed.
 WHAT IS THE DOWNTIME?
There is no down time, You may resume your usual daily routine following treatment. However, If you work in a dusty environment or an environment that has exposure to chemicals we advise you refrain from this for two days post treatment to avoid irritation or complications.
HOW MUCH DOES ACNE SCAR REDUCTION THERAPY COST?
HOW DO I BOOK A CONSULTATION?
Click on "Book an Appointment"