Facial Medical Microneedling in birmingham
Facial Medical Microneedling is a advanced, medical grade skin remodelling treatment designed to stimulate the epidermis and dermis layers. Facial Medical Microneedling produces thousands of micro-needle columns in the skin, which in turn stimulates the skin to naturally regenerate and repair itself by triggering a new skin cell forming turn over response.
Thankfully, Facial Medical Microneedling is remarkably effective for face and neck because it stimulates new collagen production and tightening by rearranging existing collagen fibres by remodelling them. Facial Medical Microneedling is suitable for those who want to correct signs of ageing, dark pigmentation and oily breakout prone skin.
IS FACIAL MEDICAL MICRONEEDLING THE SAME AS SKIN REMODELLING?
We know collagen, elastin and hyaluronic acid are the main components of youthful looking skin, it's easier to understand how non invasive treatments work. Collagen remodelling is simply stimulating new collagen production using microneedling to create micro-channels in the skin that tighten and re-arrange existing collagen fibres. By increasing production and making the collagen tighten or contract gradually revealing youthful, tighter, lifted, supple, mark and scar free skin. The collagen fibers reorient and rearrange themselves creating a stronger and firmer skin structure.
BENEFITS OF FACIAL MEDICAL MICRONEEDLING
Facial Medical Microneedling  has increasingly gained popularity at Schon aesthetic for its growing list of benefits. Facial Medical Microneedling will renew, rejuvenate and plump the skin with minimal discomfort and very little downtime, and treatment plans can be adjusted to fit the individual needs of the patient.
Benefits of facial Medical Microneedling include:
-Reducing the appearance of fine lines/ wrinkles
-Repairing smokers skin & reducing smokers Perioral lines
-Reducing enlarged oily open pores
-Reducing the appearance of hyperpigmentation, or dark spots
-Reducing dark eye circles and hooded eyelids
-Detoxing congested breakout prone skin
-Lifting Neck skin and reducing lines
-Reducing frown lines & crows feet
-Tightening and lifting nasolabial folds & marionette lines
-Correcting uneven skin tone
-Improving skin elasticity and building collagen
-Tightening and lifting skin all round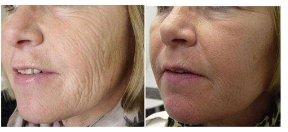 CAN THE NECK BE TREATED WITH MEDICAL MICRONEEDLING?
Absolutely! Most patients opt for the neck to be treated because of the lifting and tightening properties of the treatment reducing loose skin, neck lines, double chin and 'turkey neck'.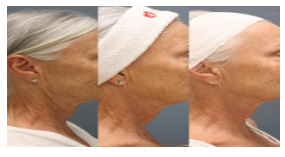 HOW MANY FACIAL OR NECK MEDICAL MICRONEEDLING TREATMENTS DO I NEED?
Remodelling the skin  is never a quick fix as the treatment process involves triggering the growth of new skin cell formation. The amount of treatments required solely depends on the person but on average a minimum of 6 treatment sessions are recommended to achieve optimum results.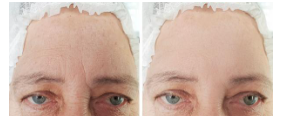 HOW OFTEN CAN I HAVE FACIAL MEDICAL MICRONEEDLING TREATMENT?
With most of these treatments it is normally advised that you have a treatment course of six treatments, one every month for optimum results.
DOES FACIAL MEDICAL MICRONEEDLING HURT?
Topical numbing creams are available to help minimise any discomfort of the treatment when you are having a deeper treatment. However, most treatments do not require any creams.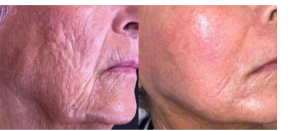 HOW LONG DOES THE HEALING PERIOD TAKE? 
The healing period is usually 7 days post treatment. Although everyone's skin is unique and not everybody heals in the same pattern or time. 
WHAT AFTERCARE IS INVOLVED?
Following each treatment session you will be provided with aftercare instructions to help speed up the skin healing process and aftercare creams to take home. It is important not to allow the skin to sweat or become heated for 3-4 days. Alcohol and excessive amounts of coffee must be avoided to prevent excessive dryness and irritation. Sun exposure must be avoided and a factor 50 sunscreen must be applied everyday following your 7 day recovery period between treatment sessions. Avoid saunas, steam rooms and swimming. Avoid using your usual every day facial products and exfoliants during the 7 day healing period. Do not use any active ingredient products such as AHA or retinoids to prevent interfearing with the skin remodelling process. Make-up must not be worn for 72 hours following treatment.
WHAT IS THE DOWNTIME?
There is no down time, You may resume your usual daily routine following treatment. However, If you work in a dusty environment or an environment that has exposure to chemicals we advise you refrain from this for two days post treatment to avoid irritation or complications.
WHAT ARE THE RISKS INVOLVED?
As long as the prescribed home aftercare routine is followed and there are no further medical changes which your practitioner is aware of, there have been no risks associated with any of these treatments. However, for the first 72 hours post-treatment, you may experience redness, swelling, itchiness and dryness. Your practitioner will advise the best home care advice after your first treatment to help reduce the initial side effects.
HOW MUCH DOES FACIAL MEDICAL MICRONEEDLING COST?
HOW CAN I BOOK A CONSULTATION?