Hair Loss Follicle Restoration Therapy in birmingham
RAPID GROWTH HAIR FOLLICLE RESTORATION THERAPY
HAIR LOSS IS NOT AS GENETIC AS YOU MAY THINK!
We understand how upsetting and stressful hair loss can be, in all of its forms. From initial stages of thinning hair to full medical hair loss. At Schon Aesthetic Birmingham we offer a non-surgical, scar free natural method treatment that will not harm the follicles or surrounding tissues in the hair loss area and we grow your hair back using your own natural body healing response to correct your currently interrupted hair cycle back to its normal cycle of growth. The method we provide for healthy hair growth is specifically designed to strengthen and rejuvenate the hair follicle first by creating the perfect hair growth grounds and triggering the growth factors. Once this has been corrected the hair cycle will naturally return very quickly to its normal growth cycle over the course of our 4 month treatment plan! 
Expect to feel new hair follicle growth from the third treatment!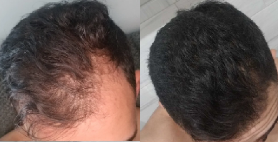 WHAT HAPPENS DURING MY RAPID HAIR GROWTH Consultation?
Your consultant will listen and take note of your hair loss concerns followed by a medical check list and examination to establish what is causing the hair loss  If all is well during your consultation and there is nothing preventing you having treatment, we will design for you a personalised rapid hair growth treatment plan. You may be treated on the day or an appointment will be booked for you to return for treatment. 
WHAT HAPPENS DURING RAPID GROWTH HAIR FOLLICLE RESTORATION THERAPY?
The scalp will be massaged to encourage blood circulation. The size of the needles can range from less than 1 millimetre to a few millimetres in length. Tiny micro channels are created in the area with a hand held medical grade pen device. Micro punctures are created to provoke the release of dormant hair follicles halting the hair loss immediately.  Specialised medical grade serums are placed inside the micro punctures created to nourish hair follicles creating the perfect growth grounds.  Immediately following treatment, these growth factors will trigger and kick start the correction of the interrupted hair growth cycle by directly stimulating the hair follicles as a result.  Following this you will be placed under a LED red light machine to boost the hair growth results.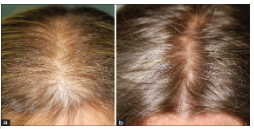 WHAT HAPPENS AFTER MY RAPID GROWTH HAIR TREATMENT?
Aftercare information will be provided to you. You will recover at home over 7 days and there is no need to take time off work.
HOW MANY TREATMENTS DO I NEED AND HOW OFTEN WILL I RECEIVE THEM?
How many treatments necessary to reach your hair growth goal will be established in your consultation and your treatment plan will be pre-booked for you following your first treatment according to the severity of the hair loss.
WHAT AFTERCARE IS INVOLVED?
As with all cosmetic procedures we believe the aftercare is just as important as the treatment itself. You will be provided with a aftercare sheet to take home. Here are the main aftercare instructions following treatment:
DO NOT USE ANY SOAP/WASHING AGENTS/CHEMICALS ON THE TREATMENT AREA UNTIL 3 DAYS POST PROCEDURE. ENSURE THAT NO SOAP/WASHING AGENT/CHEMICAL COMES INTO CONTACT WITH THE TREATMENT AREA FOR 3 DAYS POST PROCEDURE.
Avoid strenuous exercises that cause sweating as well as jacuzzi's, saunas, swimming and steam baths for up to 3 days.
Avoid picking, scratching, rubbing or touching the area unnecessarily. If the area feels itchy this is a good sign of healing. Sleep on a satin or silk pillow case and change the pillow case every day. 
Sleep on your back with the head of the bed elevated to minimize swelling.
Aftercare sheet will be provided 
HOW TO BOOST THE HAIR GROWTH DURING RECOVERY
With the advise of a Your GP or pharmacist you might benefit from applying minoxidil or finasteride (24 hours) following your treatment sessions. We will provide you with a nourishing hair growth oil to hydrate the area because your skin absorbs at least 80% of the oil's nutrients compared to 7-10% in a standard application, without micro puncture therapy.
SIDE EFFECTS
Tenderness, redness, slight bleeding from micro punctures that turn into micro scabs, flaking of old scalp skin. All will subside in 7 days
THE RISKS
Treatment Is not suitable for pregnant patients, diabetics, heart patients, epileptics, anyone with a history of eczema, psoriasis or hemophilia or those taking blood thinners.
REASONS WHY YOU SHOULD NOT ATTEMPT MICRO PUNCTURING AT HOME
There are significant downsides to at-home micro puncturing. These include:
-not knowing the right size needles to use
-not being able to see certain parts of your own scalp, such as the back of your head
-not being able to target the desired areas as well as a professional
-not knowing how to use the device correctly
-not knowing when to stop
-not knowing how much pressure to apply
COMMON TYPES OF HAIR LOSS
MALE PATTERN HAIR LOSS (MPHL)
Also known as androgenic alopecia and male pattern baldness, is hair loss that occurs due to an underlying susceptibility of hair follicles to shrinkage due to the influence of androgenic hormones.
The Norwood scale is the most common used scale for self diagnosis of hair loss/hair thinning ranging from stages 1-7. It is a good indication of baldness for consultations and treatments that may be required. Below is an overview showing the different stages of hair loss and hair thinning.
Whatever stage of hair loss/hair thinning you have suffered Schon aesthetic is here to help  non-surgically replace your hair.
THE NORWOOD SCALE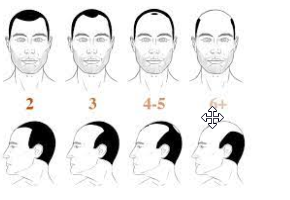 FEMALE PATTERN HAIR LOSS
Do women lose their hair
in a similar pattern to men?
The Hamilton-Norwood scale is a common measurement tool used to measure baldness in men for those suffering from Androgenetic Alopecia in the form of Male Pattern Baldness, but what about women? Do women lose their hair in a similar pattern to men?
Though it is true that some women lose hair in a similar manner as men, this is not true for all women.
The Ludwig and Savin Scale is intended as a measurement tool for women who suffer from Androgenetic alopecia in the form of female pattern baldness to determine their level of balding. It is a good indication of baldness for consultations and treatments that may be required.
Whatever stage of hair loss/hair thinning you have suffered Schon aesthetic is here to help. 
THE LUDWIG AND SAVIN SCALE

Alopecia affects males and females of all ages and can commence at any stage of one's life. It can vary in appearance from tiny random bald patches to total baldness. Although the condition does not cause the sufferer any physical pain, it can be the source of deep emotional distress.
Here at Schon aesthetic we offer a free hair loss diagnosis to all clients.
Our Alopecia treatments are 100% safe and side effect free.
There are different forms of Alopecia. Listed below are the main types and their characteristics:
ALOPECIA AREATA (AA)
Alopecia Areata is an auto-immune condition which causes patchy hair loss. It can result in a single bald patch or extensive patches. This is a common condition, where normal hair growth is interrelated with totally bald, circular or oval patches. Generally AA can begin during childhood and reoccur throughout a person's lifetime. In many cases, the condition is confined to one or two spots, but it can spread and become Alopecia totalis.
ALOPECIA TOTALIS (AT) & UNIVERSALIS (AU) 
Alopecia totalis is a more advanced form of Alopecia Areata which results in total loss of hair. In rare cases, Alopecia Totalis can become Alopecia Universalis, where the hair is lost completely on the head, face and body.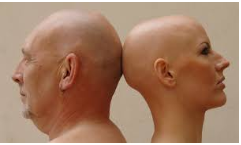 ANDROGENETIC ALOPECIA (AGA)
Also known as male or female pattern baldness. It is a thinning of the hair to an almost transparent state, in both men or women. It is thought to be a hereditary form of hair loss and is the most common type of progressive hair loss.

TRACTION ALOPECIA
Traction Alopecia is usually due to excessive pulling or tension on hair shafts as a result of certain hair styles. Hair loss depends on the way the hair is being pulled.
THINNING HAIR 
Telogen effluvium (hair loss), Is the most common hair loss. This is where the hair shedding cycle becomes stuck at this stage for too long resulting in significant hair thinning all over the scalp. This is more noticeable when you wash your hair. You will not have patches of hair loss (bald patches) but rather a generalised thinning.
The causes of Telogen effluvium can be a major stressful event for example, childbirth or major surgery can keep your hair cycle stuck in the Telogen phase. At Schon aesthetic we simply trigger the growth factors when the hair is stuck in this phase to guide the follicles back into their correct growth cycle.
PREGNANCY HAIR LOSS
Telogen Effluvium is the excessive shedding of hair that occurs one to five months following pregnancy. This is not uncommon, as it affects somewhere between 40 to 50% of women.
Hair loss that is connected to pregnancy usually occurs after delivery. During pregnancy, an increased number of hair follicles go into the resting phase, which is part of the normal hair loss cycle.
The most common period of hair loss occurs approximately three months after delivery. The rise in hormones during pregnancy keeps you from losing your hair.
Hair loss may result from any one or more of the following:
Discontinuation of birth control pills or any other hormonal type of birth control method
-Miscarriage or stillbirth
-Hormonal imbalance
Along with a lot of other changes that occur as part of pregnancy, hormones can often cause hair to fall out. Hair loss during pregnancy differs greatly – what may be minimal in one woman, may be very noticeable in another. Hair loss really does vary from pregnancy to pregnancy, even in the same individual.
WHAT IS THE COST OF THE TREATMENT?
A consultation is necessary to establish cost of treatment call: 07851861299 to speak to our hair loss specialist
Hair Loss Follicle Restoration Therapy in birmingham