bb glow facial birmingham
Exclusive BB Glow Up Facial Treatment at Schon Aesthetic Birmingham
Imagine waking up in the morning and going to bed not having to worry about applying and re-applying your makeup saving your valuable time so you get to do the things you love. Visualise a flawless real life 'filter' effect smooth skin surface that is wrinkle and scar free with a permanent but natural foundation, highlight and contour, tint of blushed lips or cheeks providing you with a youthful healthy complexion all round. If you are seeking to improve the quality, tone and texture of your skin or mask any imperfections leading to tighter lifted skin and a brighter complexion that is blemish free this is your go to treatment without a doubt!
Contact us today to discuss your desired skin goal on: 07851861299
Expect a real life filter look with a glow!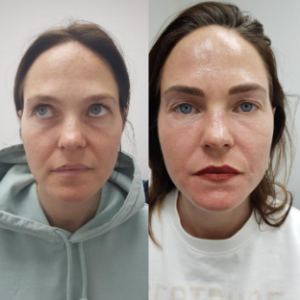 What is BB Glow Up Facial at Schon aesthetic Birmingham?
BB Glow Up Facial at Schon Aesthetic Birmingham combines semi permanent makeup pigments with a powerful serum with microneedling .The micro needles penetrate the upper epidermis layer of the skin infusing the BB Glow pigments and serum adding nutrients and most importantly the colour tint required to correct the skin tone. The skin subsequently
becomes stimulated thereby naturally producing an increased amount of collagen, elastin and your own hyaluronic acid resulting in visibly noticeable skin improvement. The BB glow shades available include Light (lightest shades for normal skin complexions), Light Rose (light pink shades for bright skin complexions), Medium (medium shades for medium skin complexions), Deep (dark shades for brown skin or bronze skin complexions), and Deep Plus (deep skin complexions).
Your BB Glow Practitioner will place the ink on your skin similar to how a makeup artist would and proceed to blend in the pigments. A highlight, contour or bronzing with pigmented BB cheek blush option or BB KISS Lips option is also available if you are seeking a natural look total glow up.
Self love and self care is treating you sometimes!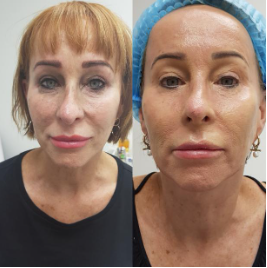 BB Glow Up Facial addresses many skin concerns such as:
Uneven skin tone ; skin surface
Melasma , crows feet, frown lines
Dark under eye circles or dark mouth circles
Surface wrinkles; acne scars, open oily pores
Loose under eye skin, hooded eyelids, sagging jowls
Depressed nasolabial (nose to mouth line) creases
Dipped tear troughs ; deep smile lines
Dull complexion, Sun damaged skin ; sun spots
Contact us today to discuss your desired skin goal on: 07851861299
BB Glow Up Facial is specifically designed with you in mind
Exclusive BB Glow Up Facial at Schon Aesthetic Birmingham is a multiple action facial treatment that effectively corrects surface skin concerns. At Schon Aesthetic Birmingham we are a result focused clinic that offers specifically designed state of the art treatment packages that provide excellent results every time, but don't just take our word for it read our
client reviews! We listen to your concerns and tailor each individual treatment plan to your specific requirements in order to achieve your final result goal. BB Glow Up Facial treatment is designed by our expert multi certified, award winning semi permanent makeup artist and skin re-modelling specialist who is most recognised for her creative attention to detail and anatomical knowledge working with various skin conditions for over a decade.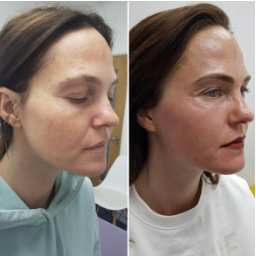 More about BB Glow Up Facial
BB Glow Up Facial is a non surgical, non invasive multiple action treatment that is painless with little to no down time. Suitable for all genders ages 22 and over. Expect to see visible results from first treatment! BB glow takes about 1.5 hour, including skin preparation time. You will see instant results after the first session, but in order to achieve optimal results we recommend 4 sessions with 3 week intervals for long lasting effective results. You can visit the therapist for maintenance every 8 to 12 months following the recommended 4 sessions has been completed.
What To Expect about BB Glow Up Facial
A cleanser based on your skin type to deep cleanse your skin will be used followed by a selected cocktail of high grade rejuvenation peptides and serums based on your desired result goal. This is infused into the skin with your carefully selected pigments for smooth penetration. A luxury 24ct gold peptide can be added to the treatment to provide with a glass glow finish.
You will receive visible anti-aging benefits from the specifically selected cocktail of serums that are combined with the skin re-modelling microneedling and improvements can be seen as soon as 7 days post treatment. There is little to no downtime and you can resume your normal activities. You may experience temporary tightness, redness, irritation, swelling or flaking following treatment. These sensations are the skin signalling that the healing response has begun and your new skin cells are turning over and regenerating as a response as it should.
What is BB KISS Lip Blush?
BB KISS Lip Blush involves implanting a blush tone pigment inside the epidermis layer of the lips to effectively bring life to dull lips. BB KISS Lip Blush will have your lips appearing youthful with a naturally blushed tone and results are long lasting.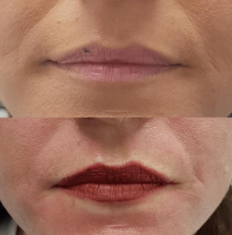 What is BB Glow Cheek Blush?
BB Glow Cheek Blush involves implanting a blush tone pigment inside the epidermis layer of the skin from the apex point of the cheek across the zygomatic arch to effectively provide a natural healthy blush throughout the cheeks bringing youth to the face all round.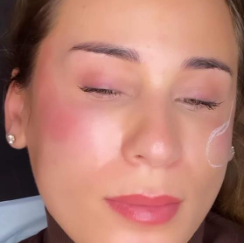 Why choose BB Glow Up Facial with Schon Aesthetic Birmingham
BB Glow Up Facial is an exclusive treatment method here at Schon aesthetic that has been specifically designed by our passionate and knowledgeable celebrity makeup artist and Master tattoo artist Rose who is a specialist in semi permanent makeup tattoo art and skin re-modelling who is most recognised for her passion to provide excellent results and attention to detail through her mind's eye. BB Glow Up Facial is a tailored service where we listen to client expectations and customise treatment packages to suit each individual aesthetic goal.
Who is BB Glow Up Facial, BB KISS Lips Blush and BB Cheek Blush not suitable for?
Contraindications are:
 infectious diseases;
 Psoriasis, eczema, rosacea, active acne, severe hormonal breakouts
 viral and fungal skin diseases;
 inflammation in the affected area;
 cardiovascular diseases;
 bleeding disorder;
 diabetes;
 hepatic, renal failure;
 gallstones;
 oncological diseases;
 burns, open wounds;
 formation of keloid scars
 chemical peels or Botox injections conducted less than two weeks ago;
 epileptic seizures;
 pacemaker, holter blood pressure monitor and other implanted electrical devices;
 allergic
 pregnancy and lactation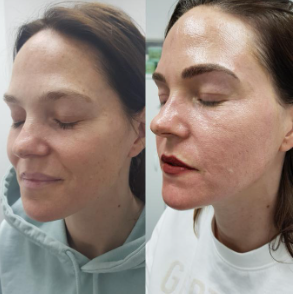 Contact us today to discuss your desired skin goal on: 07851861299
FAQ
What is involved: BB Glow Up Facial how does it work?
BB Glow Up Facial involves building layers of the specialise pigments inside the upper skin layer. Similar to having removable makeup applied to sculpt and highlight the face adding cheek blusher to make the cheeks pop the difference with having BB Glow Up treatment is we implant the specialised foundation, highlighter and contour tattoo pigments by depositing them inside the Epidermis (top layer) of the skin.
What does BB Glow Up Facial do?
BB Glow Up is a dual action facial that Corrects uneven skin tone, brightens and balances out the complexion, reverses aged wrinkles dramatically by reducing them dramatically, re-models skin cells rejuvenating them, tightens and lifts loose skin on the upper eyelid, lower eyelid, jowls and neck, camouflages melasma patches, reduces acne scars and open pores, elevates nasolabial fold (nose to mouth lines) tear trough (dipped eyes) producing new collagen in these areas, smooths out skin surface all round, glowing complexion, halts skin ageing and slows it down, deflects UV rays preventing sun damage long term.
What happens during my BB Glow Up Facial consultation?
Our consultations are thorough and necessary to establish you are a suitable candidate for treatment. Once we have established your suitability we will take note of your result expectations then proceed to design your individual treatment plan. We can treat you on the day or offer you an appointment for another date. You will receive a pre-planned
appointment schedule following your first treatment to keep in with the prescribed timing of your treatments in order to achieve optimal results.
Does BB Glow Up Facial hurt?
BB Glow Up Facial is non invasive. Minor vibration and a buzzing sound can be heard with most patients describing the treatment as relaxing and painless.
What are the risks of BB Glow Up Facial?
For 48 hours following treatment minor redness, swelling, irritation, tingling can be felt that will subside
What aftercare is involved with BB Glow Up Facial do i need to take time off work?
You can resume your usual daily tasks and the skin will heal in 48 hours internally and 5 days externally. We recommend you avoid strenuous exercise that will cause sweating, chlorinated water and direct sun exposure for 5 days.
Can i just have one treatment?
We can offer single treatments although for optimum results we recommend a course of 4 treatments for best results
How much does a BB Glow Up Facial package cost?
Your suitability and result expectations would need to be established before we can offer the treatment to you during your pre-booked consultation
How do I book a consultation?
Call: 07851861229 to speak to our skin specialist
Posting for my mum. I brought the BB Glow package months ago to treat my mum for her 55th birthday. We both attended the consultation which was thorough and well explained. The clinic is very clean and Rose is obviously very passionate and knowledgeable about her work and you can tell she enjoy's what she does. My honest opinion on the BB Glow treatment, it is WELL WORTH IT! I mean my mom literally looks 10 years younger! Highly highly recommend! I have purchased the treatment for myself and i am really exited to see my final result. Thank you Rose🌹 i can not wait to see you xx
I CAN'T STOP LOOKING IN THE MIRROR! I had a course of Microneedling for my acne scars and my results turned out better then i expected. Rose was great! soo much patients and i felt she was thorough during every treatment i had. Highly recommend. Thank you Rose recommended aesthetic clinic in birmingham.
HIGHLY RECOMMENDED! The clinic is clean and Rose was very thorough in the consultation and my treatment i had the BB Glow treatment, cheek blusher, 3D feather brow Microblading and the BB KISS lips. I am very pleased with my results and i will definitely be returning in future for more treatments. Thanks Rose x, Recommended aesthetic clinic in birmingham.
I've been going to this clinic for a while, and they are the only ones I trust with my skin. Their advice is always comprehensive, honest and rooted in their expertise. Most beauty clinics will not use practitioners for procedures, but you can rest assured that this team is probably one of the most experienced ones in the birmingham.she patient in answering questions, they are flexible and frankly, very talented at what they do! It's therefore not just their experience, but also their ability to see what is best for each person, and individual features. I'd come back here anytime :)The practitioners all are thorough, ensuring you have enough information to make an informed decision on the right treatment for you.
Karen Elizabeth
2023-02-27
I had the BB Glow Medical Facial treatment. This was definitely the best treatment and results i have experienced in a long time! All of my deep and minor wrinkles have disappeared, my jawline skin is tighter and i can now see my jawline! My skin is literally glowing and i can not stop looking in the mirror! Rose gave me a thorough consultation and designed my treatment package to address my skin concerns. The treatment is painless and Rose clearly knows what she is doing. Her level of knowleadge is obvious in how she explained the treatment and how she performed the treatment. Money well spent. Really pleased, Highly recommended. Thank you Rose, i will be back soon x.
I went to see Rose about my diffuse hair thinning because of my significant hair loss. Since I am only 35 years old, the rapidity with which my hair was falling out had me in a state of panic. Rose calmed me down, explained what was going on, and laid out a plan to restore my hair's growth cycle and strengthen my follicles. Rose is definitely competent and knowledgeable in her field; I learned a lot from her about hair loss. The fact that she paid such close attention to me when I was talking to her shows that she is deeply invested in her job. After 3 months and 6 sessions of scalp therapy, my hair loss has stopped and new growth is much thicker than before. This schon aesthetic clinic comes with my highest recommendation. Definitely a 10 out of 10! Sincerely appreciate your assistance.
I went to see Rose about my extreme hair loss, which was causing my hair to thin out all over my head. We discussed several treatments. I was in a state of panic since I am only 30 years old, and I was losing my hair at an alarming rate. Rose put me at ease, explained why it was occurring, and described exactly how she will help my hair come back, strengthen my follicles, and return my hair growth cycle to its usual rhythm. This has helped me feel a lot better about the situation. Because Rose is so knowledgable and has so much expertise in her field, I was able to gain a lot of information on hair loss from her. Given the amount of attention she offered me, it is clear that she feels strongly about the work that she does. I underwent a total of six sessions of scalp therapy, and now, three months later, not only has the hair loss stopped, but my hair is growing back far thicker than it was before. This clinic comes highly recommended; the practitioner is quite skilled in her field. I'd have to give it ten out of ten! Many, many thanks for your assistance in this matter.
Since the age of 17, I've been plagued with severe boxcar acne scars. My next-door neighbour, who she had previously helped with acne scars, had recommended Rose to me, and so I made an appointment for a consultation with her. She costs twenty-five pounds for the consultation, but I can see why she does so because she is very experienced, and the fee is deducted from the total when you buy a treatment package, which is fantastic. Rose immediately put me at ease and attended thoughtfully to my apprehensions around my acne. She made a recommendation for a treatment plan and described it very well. I felt certain that she was the one who could cure my skin, so I decided to purchase the treatment plan that included six treatments. You can notice the improvement more and more every time you have a treatment I saw a change from my second treatment). Do not expect a miracle; I had one treatment every four weeks, and you can see the improvement more and more every time you have a treatment. recommeded best aesthetic clinc in birmingham UK.
I have visited schon cosmetic clinics twice so far for the elimination of acne scars, and both times, the service has been outstanding. Every member of the staff treats you with consideration and courtesy, and the lady who performs my laser hair removal is kind and friendly, doesn't pass judgement, and puts me at rest. I did not have any feelings of embarrassment or shyness as a result of your displaying more private parts of your body. It wasn't hard for her to make me feel at ease and protected in her company. I have nothing but positive things to say about schon aesthetic clinics in Birmingham. I went to a number of cosmetic clinics in Birmingham, United Kingdom, but Rose is the only one that produced consistently excellent results.
Due to the substantial amount of hair that I had been losing, I decided to consult with Rose about my widespread hair thinning. The velocity with which my hair was coming out caused me to be in a state of fear, especially considering that I am just 30 years old. Rose was able to put me at ease, explain what was occurring, and devise a strategy for reestablishing the normal rhythm of my hair's growth cycle and fortifying my follicles. Rose is unquestionably skilled and informed in her profession; I picked up a lot of useful information concerning hair loss from her. During our conversation, the fact that she paid such careful attention to me demonstrates the level of dedication and passion that she brings to her work. My hair loss has been halted after three months and six sessions of scalp treatment, and the new growth is far thicker than it was previously. I have the utmost confidence in recommending that you go to this excellent aesthetic clinic. A perfect score of 10 out of 10! I cannot express how much I value your support. The most advanced and innovative cosmetic clinic in Birmingham.