medial microneedling face & stretch marks in birmingham UK
STRETCH MARKS MEDICAL MICRONEEDLING in birmingham uk
Stretch marks, medically known as 'Striae',are irregular lines that appear as parallel streaks of red or brown, thinned glossy skin that eventually can become white over time. They are perfectly natural and harmless to the skin and normally present themselves during or after pregnancy, results of weight gain/loss, extreme muscle bulking and finally in puberty, where adolescents tend to have growth spirts. While stretch marks are not detrimental to physical health, the appearance of them can trigger many body insecurities.
If you're among the 80% of people who have stretch marks, you probably know how difficult they are to get rid of. Even after you've spent thousands on creams and oils that claim they'll get rid of your stretch marks, your stubborn stretch marks just don't seem to go anywhere.
Often appearing on the stomach, back, side flanks/ love handles, thighs, butt, back of arms, intimate area, outer arm pits, and breasts, stretch marks can vary in thickness and in colour. Stretch marks are caused by your skin stretching quickly. This can be due to weight gain, pregnancy, and even just your genetics!
Thankfully, Medical Microneedling is remarkably effective for stretch marks scars because it stimulates new collagen production and tightening by rearranging existing collagen fibres by remodelling them.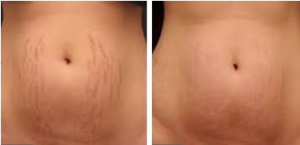 IS STRETCH MARKS MEDICAL MICRONEEDLING THE SAME AS SKIN REMODELLING?
Yes it is, We know collagen, elastin and hyaluronic acid are the main components of youthful looking skin, it's easier to understand how non invasive treatments work. Collagen remodelling is simply stimulating new collagen production using microneedling to create micro-channels in the skin that tighten and re-arrange existing collagen fibres. By increasing production and making the collagen tighten or contract, the stretch marks  gradually fade away revealing youthful and supple skin. The collagen fibers reorient and rearrange themselves creating a stronger and firmer skin structure.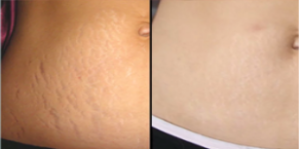 HOW MANY TREAMENTS DO I NEED FOR MY STRETCH MARKS?
Treating stretch marks is never a quick fix as this method of  treatment involves a process of triggering the growth of new skin cell formation. The amount of treatments you require solely depends on the person but on average we recommend a treatment course of 6 sessions 4 weeks apart.
 DOES MEDICAL MICRONEEDLING TIGHTEN SKIN?
Absolutely! Medical microneedling is a dual response method, it not only reduces scars and improves pigmentation, at the same time the new collagen production and skin cells actively tighten the skin due to your own body's natural healing response to the treatment. Visible results can be seen from second treatment.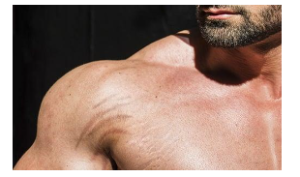 HOW OFTERN CAN I HAVE TREATMENT?
With most of these treatments it is normally advised that you have a treatment every 4 weeks for optimum results.
DOES MEDICAL MICRONEEDLING HURT?
Topical numbing creams are available to help minimise any discomfort of the treatment when you are having a deeper treatment. However, most treatments do not require any creams.
HOW LONG DOES THE HEALING PERIOD TAKE? 
The healing period is usually 7 days post treatment. Although everyone's skin is unique and not everybody heals in the same pattern or time. 
WHAT ARE THE RISKS INVOLVED?
As long as the prescribed home care routine is followed and there are no further medical changes which your practitioner is aware of, there have been no risks associated with any of these treatments. However, for the first 72 hours post-treatment, you may experience redness, tightness and dryness. Your practitioner will advise the best home care advice after your first treatment to help reduce the initial side effects.
IS STRETCH MARKS MEDICAL MCRONEEDLING PERMANENT?
The treatment is permanent. The stretch marks may return if significant weight fluctuations occur in the future.
HOW MUCH DOES  STRETCH MARKS MEDICAL MICRONEEDLING COST?
click on price list below
HOW DO I BOOK A CONSULTATION?
click on Online booking button
STRETCH MARKS MEDICAL MICRONEEDLING in birmingham uk